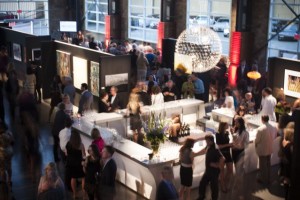 Through creative mastery and her production experience, Julie has innovatively and seamlessly produced several highly successful large-scale art projects and events.
Julie created Unite with Art in 2008. The inaugural event in June 2008 raised over $277,000 for UNICEF Canada and the total net proceeds following the fourth event in June of 2011, were approx $1,000,000.00.
In 2005 Julie curated Moja Moja, an innovative art exhibition featuring photographs taken by the children of the SHERP orphanage in Maralal Kenya in collaboration with a distinguished group of contemporary artists from various disciplines.
The success of Moja Moja inspired ReGeneration a collaborative, education initiative and important local, fair trade art event with youth from the Lax Kw'alaams band, Tshimshian First Nation.
As part of her numerous community involvements, Julie was an art committee member of Art For Life, an annual art auction for the Friends in Need Society, and has served as a consultant for Art for AIDS – a fundraiser for The Nelson Mandela Foundation. Julie was a founding board member of Drawn, Canada's first city wide drawing festival. She is the founding Director of Capture Photography Festival, a city wide not-for-profit festival which launched in Vancouver in 2013. Julie currently serves on the board of the Gordon and Marion Smith Foundation.
Julie Lee Offers
Exhibition and event production, and design – large and small scale
Specializing in creating and producing premiere art events to raise money for charitable organizations
Providing an environment for creative mastery for artists through socially innovative projects
Using art as a social tool for initiatives with underprivileged children.